Serving the egg industry for 50 years, a big thank you to Josie Arman
Josie Arman to retire after a remarkable 50 years of devotion to the UK egg and poultry sector.
In 2019, Josie Arman was nominated for a Lifetime Achievement Award at the BFREPA Conference, receiving her award from ex-Communard, the Reverend Richard Coles.
Now, after 50 years of exceptional service to the egg and poultry sector, one of its most respected figures will retire at the end of 2020. Josie's career has spanned a period of remarkable change and consolidation in the business of egg production, during which she has developed an unrivalled body of experience and the respect and affection of her colleagues and customers.
After completing a two-year Secretarial Course at Technical College, Josie got her first taste of the agriculture sector as an 18-year-old, by joining Curtis & Co. Grain Buyers based in Oundle. After 2 years, Josie decided to move on and whilst looking for another secretarial position temporarily worked for her sister, who was Head Cook in the royal household of the Duke and Duchess of Gloucester at Barnwell Manor. Josie joined as an trainee assistant cook, expecting to stay a couple of months, but stayed a year, during which time she met her husband John, who had recently left the army and was working as a chauffeur for Princess Alice Duchess of Gloucester.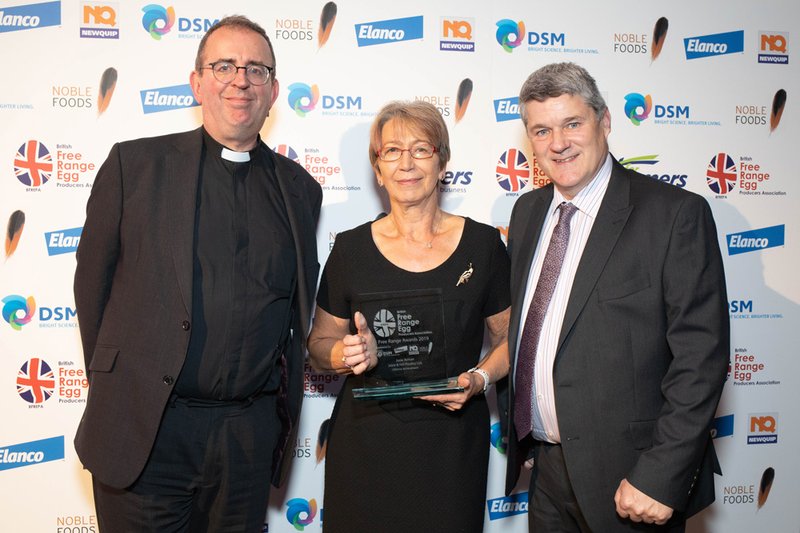 Awards: Josie collecting her Lifetime Achievement Award in 2019
In late August 1970, Josie made the fateful move into the area that was to be her lifetime's career, when her mother saw a recruitment advertisement for a Sales Office Assistant at the Warren Studler Hatchery in Orton Longueville. She was offered the job but nearly lost it before she had started when she had the audacity to inform her new employers that she had a camping holiday booked with John, in Germany, which would delay her start date by two weeks - something that didn't necessarily sit comfortably with the "authoritative" regime of the day.
Josie joined the very small team at Warren-Studler and, as her confidence grew and her flair for coordination and planning became clear, several sales office managers came and went, with Josie feeling overlooked for promotion, despite having to teach successive bosses the ropes. Eventually, Josie was offered the Sales Office Manager's position, at what was by then ISA Poultry Services, but with a slightly less elevated title of Sales Office Administrator.
Career progression was definitely harder for women, especially in the male-dominated agriculture sector of the '70s and '80s. "There was definitely a glass ceiling in place, and I was always expected to make coffee although the men never were", Josie recalls.
Luminaries of the Poultry Industry
During her early years with Warren-Studler, Josie was fortunate enough to meet several luminaries of the poultry business including the legendary Jim Warren, the venerable Madame Studler, geneticist Gerard Hubert and the exceptional Marcel Perrot. "Many of these people seemed intimidating characters", Josie remembers, "but they became much more approachable after a glass of champagne. Although Mme Studler once cut the end off a colleague's tie at the Eastbourne Conference because he wasn't wearing a company issue tie".
In the mid-1970s, there were no fewer than 7 franchised hatcheries operating in the UK. Orton Longueville managed Grand Parent farms close to the hatchery in Ireland and also a GP security flock on Guernsey. These farms provided hatching eggs for Parent Stock supplied to the franchisees, and subsequently commercial stock for the UK and Ireland. Each franchise hatchery had an exclusive territory and was contracted to buy a certain amount of parent stock, which they were expected to collect themselves and then transport to their own farms, in order to supply hatching eggs for their hatcheries. Eventually, supply of chicks and hatchery capacity exceeded demand and one by one the independent hatcheries went out of business, starting with Lloyd Ephraim in Wales, swiftly followed by Midland Hatchery and Southdown Hatcheries.
"One of the major changes that has taken place during my career is the switch from a commercial egg layer market in the mid-70s based on white eggs housed in cage systems, to the domination of brown eggs in free range systems. I have seen the number of distributors go from seven to one and a much more professional, scientific, research and data driven business emerge. Warren Studler started out hatching 6,000 chicks twice a week with second-hand Buckeye incubators at Orton Longueville. At Eye, we now have the capacity to hatch in excess of 100,000 chicks in one day".
By the mid-eighties ISA had outgrown the site at Orton Longueville and a new state of the art hatchery was commissioned on a green field site at Eye. The company moved into the new premises in autumn 1988. Josie was by now managing three sales office staff who focused on domestic sales. A separate export department had been established with five office and field based staff looking after exports. Josie assisted with export hatch planning and export documentation in addition to managing domestic sales.
Then followed a period during which the business changed ownership several times, with each owner bringing a different culture. ISA was purchased by US vaccine company, Merial, which then bought a broiler breeder company, Hubbard, and renamed the layers division, Hubbard ISA. Then, Hubbard ISA was eventually sold back to ISA, which was under the leadership of Alain Audubert, the guiding scientific mind behind the Institut de Selection Animale (ISA). Finally, in 2000, Jim Wilson handed over day-to-day control of ISA Poultry Services to Mike White.
Throughout this turbulent period, Josie continued to run the internal sales function and had a team of 4 staff when Alain Audubert sold ISA to Hendrix Genetics. In 2006, Benoit Pele, the then-MD of ISA, took the tough decision to cut losses at ISA by making substantial redundancies amongst the office staff and some UK hatchery staff. Nevertheless, Josie's commitment and experience ensured that she was retained, alongside Stephen Turner with whom she had worked since 1982.
"That was a very difficult time", recalls Josie. "I was naturally very sad to say goodbye to so many colleagues, but I was also grateful to keep my job". ISA agreed a joint partnership with the only remaining distributor – Tom Barron Hatcheries, and Tom Barron ISA was formed. Josie was back to managing Internal Sales on her own without the help of a team. Josie and Stephen were allowed to continue to work from the Joice and Hill hatchery at Eye, rather than relocating to Preston, a prospect that Josie did not seriously countenance!
For several years, the Hendrix Genetics layer breeds were sold by two hatcheries, with Tom Barron ISA distributing the ISA Brown, Shaver and Warren layers nationally, and Joice and Hill concentrating on the Bovans. Between 2006 and 2012 Josie attended and enjoyed the camaraderie of HG distributor meetings in France, The Netherlands, Belgium, Portugal and Greece and has happy memories of those years. Despite several attempts during this time by Peter Cumbers, Nick Bailey and Robert Haynes to persuade Josie to move to Joice and Hill and help to sell the Bovans Brown layer, Josie remained loyal to the breeds she had been promoting for decades.
However, when the entire ISA portfolio moved to Joice and Hill, which became a wholly owned subsidiary of Hendrix Genetics in 2012, Josie joined the team, maintaining a lifetime of commitment to the breeds she believed in.
As part of the management team at Joice and Hill, Josie quickly gained the trust of MD Nick Bailey who confirms, "Josie's exceptionally high standards are neatly balanced by her instincts for knowing the customers' preferences, adapting to their way of working and recognising how firm an order is. Add this to her ability for balancing production practicalities against customer requests, and it's easy to see how she has become invaluable".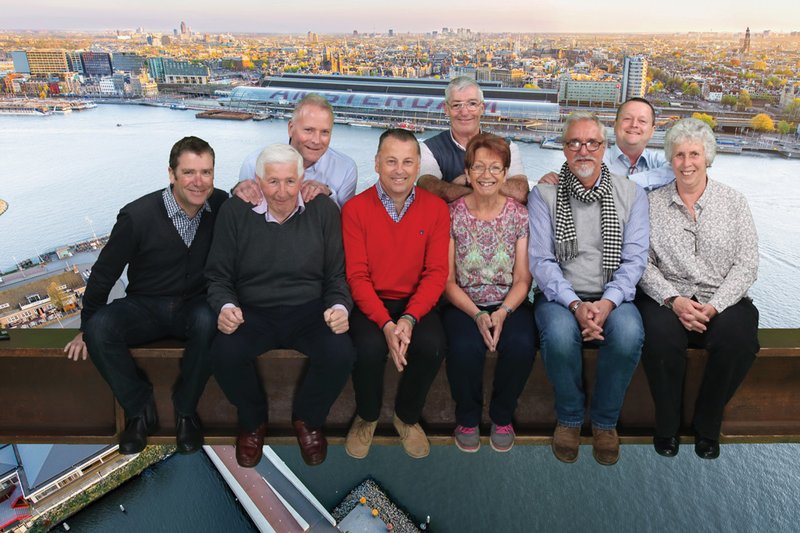 Amsterdam: Josie with colleagues on a Sales Trip to Amsterdam in 2017
Stephen Turner, now Technical Director at Joice and Hill, first met Josie in 1982 when he joined ISA Poultry Services as a fieldsman. She took Stephen under her wing and, after 38 years, they are still working together, and occasionally referred to as George and Mildred by Nick Bailey!
According to Stephen, they have had heated discussions but never fallen out. He paid this tribute: "Josie is experienced, loyal, dedicated, committed and enthusiastic. She understands and balances both the customer and the business perspective, whilst being committed to getting the sale. Well known for speaking her mind, she is also a valuable and sensitive counsellor. Quite simply, she ticks all the boxes and is irreplaceable".
Josie's career has also overlapped with Peter Cumbers who is well known as Sales Director at Joice and Hill. Peter first met Josie in 1988 when he joined the ISA Poultry Services sales team. "She ran the show then, as she does now", said Peter. "Josie is irreplaceable, her knowledge of the job and how she goes about it is amazing. Throughout all the changes of ownership and cultures she was always in charge of the order book, and she still is".
As Josie prepares for retirement, during which she plans to devote more time to her husband, two dogs, and improving the breeding results of their collection of 30+ parrots, she sums up her feelings: "I have always loved my job and think of the poultry industry as extended family, so wouldn't have wanted to be in any other sector. Who knew I would be part of it for 50 years – certainly not me when I began! The last twelve years, being part of Hendrix Genetics/Joice and Hill have been some of the happiest of my career and after so long I am sure I am going to miss it. At the same time, I am looking forward to enjoying a more relaxed (and less stressful) lifestyle".