Kukua na Kuku – Tanzania
The poultry sector in Tanzania is emerging steadily both in indigenous and exotic chicken and has great potential. For the past few years, Tanzania's population has been growing rapidly increasing the demand for animal protein. The potential of the poultry sector in Tanzania opens opportunities for investments. Kukua na Kuku was built to unlock Tanzania's potential in poultry and to make the poultry sector a dynamic, vibrant, and competitive sector. Tanzania is endowed with abundant natural resources, making it ideal for a thriving poultry industry as the country boasts 38.5 million local chickens, 40.6 million layers and broilers and a growing population of dual- purpose chickens. However, due to underdeveloped production and technologies as well as, limited, consistent supply of quality poultry products, growth remains stagnant. At the same time Tanzania's population growth and growing middle class has led to an increase in demand for animal protein and poultry products.
Kukua na Kuku was a collaborative project between Tanzania and the Netherlands transforming Tanzania's poultry sector by using Dutch technologies. The aim of the project was to improve farm management, animal health, marketing and ensure the availability of quality feed and suitable equipment. We believe that by investing in the entire value chain the sector will be unlocking its full potential and, in turn, will catalyze the growth of demand for good quality poultry products.
Kukua na Kuku is Swahili for "Growing with Chicken" which is a fitting name because the project aims to promote and support the continuous development of the poultry sector in Tanzania.
The project was coordinated by the NABC (the Netherlands-African Business Council) and the local partner was Kilacha Agriculture and Livestock Training Centre (KALTC), located in the Kilimanjaro area.
By setting up a training facility and demonstration farm we invest in the future as this will allow a transfer of knowledge and expertise throughout the entire value chain. Furthermore, we believe in future-proof solutions; in addition to training a large number of farmers on farm management, we will also improve the further dissemination of this acquired knowledge by developing the trainees' educational skills.
It was a 3 year project, which ended on May 26th 2022, with the official opening of the demonstration farms by the deputy ambassador for the Netherlands in Tanzania, Mr. Job Runhaar, and the award ceremony of the certificates for the 18 ToT (Training of Trainers) graduates.
The 7 companies that were part of the collaboration were:
During the 3 days closing event in May it was encouraging to hear from the graduated trainers how many farmers they can reach in Tanzania and what they have learned during the training sessions. The main reason why we, as Hendrix Genetics, participated in this project was to bring more technical knowledge to the local farmers in Tanzania. We all know the importance of applying proper knowledge when managing a poultry farm. Next to good genetics, you also need to create a good environment in order to achieve good results.
More information on the Kukua na kuku project can be found on: https://kukuanakuku.co.tz/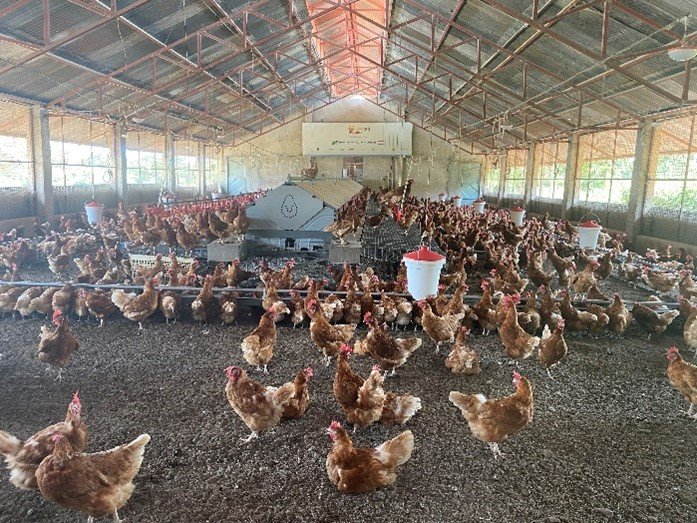 At an age of 76 weeks, the birds were still very well feathered with a production of 85%, which is 2-3 % above standard.
Some of the highlights of the Kukua na Kuku project:
784 farmers have been reached by the KnK training over 3 years, 479 of which were females and 305 males. Their awareness was raised in all areas of poultry production, including rearing layers, production of broilers, food safety, professional slaughtering and feed formulation.
35 trainees have been reached by the KnK training of trainers' program. Their knowledge has been increased on brooding rearing management, brooding broilers including housing, climate control, biosecurity, poultry health, farm recording and market.
32 veterinarians have increased knowledge in recognition, diagnosis, treatment, and prevention in the most common poultry diseases.
18 trainees graduated from the Training of Trainers at Kilacha Agriculture and Livestock Training Centre.
2 demonstration farms were built, one for layers and one for broilers, with highly efficient equipment at the 2 Kilacha Agriculture and Livestock Training Centre.
About the NABC
The NABC is the main Africa-focused business community in the Benelux. Their network consists of more than 250 diversified and engaged members; a wide community of African and Dutch Ambassadors, sector associations, Chambers of Commerce, Investment Promotion Agencies and over 10'000 Africa focused business contacts. NABC strongly believes that the private sector has a crucial role to play towards an Africa that is economically thriving and globally competitive in trade and investment. They aim to inform and connect businesses with Africa's opportunities and enable their community to make confident business decisions and succeed in Africa.
Available in multiple languages
Related articles
March 14, 2023
, by
Ivan Bedetti
The Importance of data collection
A few years back, Hendrix Genetics Layers decided to start the PRIMA Project after consulting with customers and colleagues. The need for a powerful and easy tool to collect data has always been clea…
March 14, 2023
, by
Ivan Bedetti
PRIMA user in the spotlight: Spring Glory Farm
We have asked one of the PRIMA users to share his experiences with the PRIMA application. We're grateful that mr. Rukudzo Matasira, took the time for an interview about his experience with PRIMA.
March 13, 2023
, by
Peter Arts
The Dekalb White lands in Ethiopia
The Ethiopian adventure started in 2015 when Arend Hardeman, a successful Dutch entrepreneur, and CEO of the similarly named company Hardeman Egg Group, took ownership of Maranatha farm, a commercial…