Customer in the Spotlight: PROAVISA, Productos Avícolas SA.,
Our collaboration with Proavisa is in place for many decades. We are very proud that companies like Proavisa, have made the choice for our laying hen genetics. Proavisa is built on the fundament of Quality. From breeders, hatchery, rearing the chicks, to delivering the eggs at the doorstep of their customers, it is the Quality and Service that counts!
Proavisa, locally known as the company that produces the highest quality Guatemalan eggs, is nationally associated with quality and transparency. It all started with the grandfather of Mr. José Manuel Segovia, the general manager of Proavisa. His grandfather started in 1953 with a feed mill, he brought concentrate from the United Stated and mixed it locally with corn and other feedstuffs. The company is located now in Amatitlán, on the outskirts of Guatemala City, and currently employs 550 people.
The father of José Manuel, Don Oscar Segovia, started the poultry and egg production activities in the late 60's, the moment when industrialized poultry production really took off. The first flock in 1969 consisted of just 8.000 laying hens, in a floor system, all manually operated. This is in great contrast with the situation today, almost 1 million laying hens are kept in state-of-the-art cage housed systems. All the processes are fully automated to make sure that no-one needs to touch the eggs, this to safeguard the Quality from the beginning to the end. José Manuel his father initiated the mechanical processes, and the first cage housed systems were introduced in 1976. The goal has always to be more efficient instead of being bigger. At Proavisa they are clearly investing in technology, size is not the main driver, the investments help to become the best, and to be cost-efficient. José Manuel joined the company in 1991.
In 1998 they were looking for new opportunities in the Guatemala market, this is when they introduced their branded eggs, Granjazul in the supermarkets. They got inspired by an example from Chile. Within 3 weeks that he met his colleague from Chile, José Manuel was in the plane to Chile to learn from this example. During the trip he visited different supermarkets and focused on the marketing, product placement and the promotion (he did not see a single chicken in a farm). As José Manuel is an engineer by education, it was a whole new world that opened his eyes.
The brand name originated from the egg trader and producer in Chile. "Since we were little we always came to 'la granja' (that means farm), which was like a reference point", says José Manuel, so the Chilean connected "granja" with the Chilean brand and from there came Granjazul, along with the original logo that had an egg in the little house.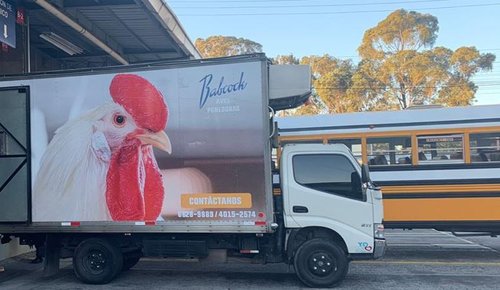 Quality
By having a clear package, the customers could see what they were buying. Besides they introduced printing of the expiration date on the eggs (not typical for Guatemala in these days). Granjazul clearly set the standard for premium quality eggs in Central America. Today, the Granjazul brand is recognized all over the country for its Quality, Freshness and Transparency. The largest part of their product portfolio consists of white eggs, but besides the whites they also market brown egg, the "Huevos Artesenales", which are cage free and the regular brown egg.
During the interview José Manuel proudly mentioned, "at Proavísa, we don't control the quality, we create it, eggs are easy to blame for food poisoning. We are working hard to reassure our customers that the egg they are eating are safe. If at any time we have a problem with any raw material, we can find out where it comes from. That is why we always look for suppliers with a certain level of trust."
Besides Quality, the Granjazul brand is based on other fundamental pillars such as Safety, Biosecurity, taking care of the Environment and Human Talent. All these pillars have driven them to innovate continuously, they clearly set the standard for the egg market through differentiation and delivering added value of their products and services. Shown by the fact that Proavísa was the very first poultry company in Central and South America to obtain the FSSC 22000 certification in Innocuity (Food Safety Systems Certification). This helps them to protect the confidence and trust of their customers in the company and their products. Last year they have also received the Animal Welfare certification, also for their feed mill they are ISO 9001 certified, and their eggs are Kosher certified.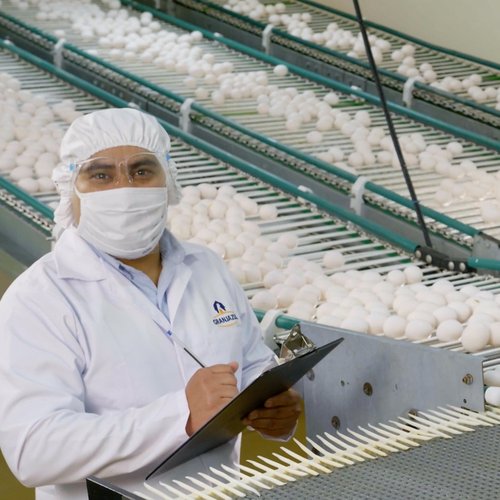 Fully integrated
Proavísa is a fully integrated company, with its own feed mill where it produces feed both for its own activities as well as selling to third parties. The parent stock breeder and hatchery activities are part of INAVISA, a sister company they recently acquired fully (they were already part of the 5 poultry companies that created INAVISA, INAVISA has a long history with the Babcock genetics). The Babcock day-old chicks come from the INAVISA hatchery and are transferred to the Proavísa rearing barns, from where they are being transferred to production farms. In addition to the parent stock, hatchery, rearing and egg production facilities, they have egg grading, packing, distribution, and marketing activities. They distribute to supermarkets, convenience stores and households under the Granjazul brand. But they also sell eggs to bakeries, pastry manufacturers and food services.
Challenges
In Guatemala there are several sanitary challenges that egg producers need to deal with, because of this Proavísa has a technical team in place that constantly checks and carries out laboratory analyses to detect any signals of disease. Biosecurity is key, for all processes of poultry farming, egg production and egg handling. The only place where taking a shower is not mandatory prior to entry is the office. Every day there is a big focus on all biosecurity standards.
Proavisa faces the same problems as everyone else, such as the current high world grain prices. Higher feed prices do not perse result in higher prices for eggs that are being sold in the supermarkets. Also, in Guatemala there is the problem of the egg price situation which goes up and down intermittently. Fortunately, Proavisa has focus on efficiency and sustainable egg production allows the company to survive in these challenging circumstances.
COVID-19 also impacted the activities of Proavisa. After toilet paper, eggs were the most popular item to buy during the pandemic resulting in shortages (but good egg prices). To safeguard the continuation of their activities and the health and wellbeing of their employees they have made big investments on the showers, they even rented portable showers to maintain biosecurity. They separated the groups and created smaller teams. Home offices were installed, but we all know the challenges with internet connections, and telephone lines not equipped for home office call centers.
Looking ahead
José Manuel has a clear focus, to further improve on efficiency and sustainability when producing eggs. "Clearly there is a need to feed more people with the growing world population, but also the environment should not be forgotten. When you have almost 1 million laying hens, you can make a big impact when steering on efficiency. When you can save a gram per bird a day, we are talking about 1000 kilograms of corn, that's a whole lot of tortillas!"
There is also a future in home delivery of eggs, an activity that started in 2019, and is growing steadily.
José Manuel does not see a clear trend in Guatemala to go for cage-free eggs. It is also hard to fit this strategy in the global sustainable egg production approach as cage-free results in higher mortality, increased feed consumption and chickens that are in contact with their own manure. This will all negatively impact the quality of the production process, but also the prices for consumers to pay. We should not forget that in a country like Guatemala, there are still many children that go to bed with an empty stomach. At Proavisa there is good focus on animal welfare, especially with chickens housed in cages animal welfare is key, you need healthy birds to produce quality eggs. Focus will remain on how to maintain egg quality (like egg health aspects), salmonella etc. José Manuel mentioned "it is extremely important for egg producers all over the globe to keep in mind that they produce the best, and one of the cheapest (and sustainable) sources of high-quality animal protein in the world. We, the egg sector, have a massive responsibility to safeguard the production process and the quality of eggs."
About Guatemala
Guatemala is a country located in Central America (borders with Mexico, Belize, Honduras, and El Salvador)
Population: 18.2 million
Current egg consumption: 200 eggs per capita per year